Artist of the Week
Comments Off

on Artist of the Week

Feb, 13, 2021
I belong to an art group on fineartamerica.com called "Old Masters and Traditional Arts" (old as in over 60 years old). This is a talented group so it is an honor to be chosen Featured Artist of the Week.
Here are the 4 images featured: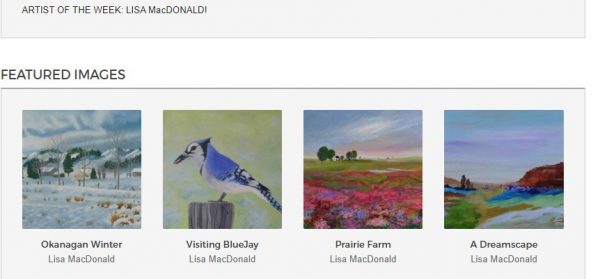 The paintings represent a progression from 2013 to 2021:
The Okanagan Winter is the first painting completed in the new year 2021.
The Visiting Blue Jay dates to 2013.
The Prairie Farm was painted in 2017 and sold through McMaster Innovation Park in Hamilton, Ontario.
Dreamscape was a fun little 5 x 7 inspiration in 2015.
The link to fineartamerica is:
https://fineartamerica.com/groups/old-masters–painters-and-traditional-arts.html
I love to paint and sketch and would do so even if no one ever saw the art; however, it is always thrilling when someone else likes my work. Both numbers 3 and 4 above were inspirational. There was no planning involved; each evolved naturally with little effort on my part and the outcome a pleasant surprise.
Most of my pieces of art are, on the other hand, the result of hours of planning and careful execution followed by days of scrutiny and tweaking. The inspirational ones are few and far between. That has been my experience. I would love to hear what you experience.